"The Kraken" 23' High Water Slide
$480.00
per additional day
Product Information:
This thing is massive! Measuring in at two-stories tall, the air gets a little thinner as you climb the ladder. Is your teenager at that "nothing is cool" stage? Give this a try. Teenagers and Adults LOVE this! All units are thoroughly cleaned and sanitized. Rent this unit for $450 for FIVE HOURS!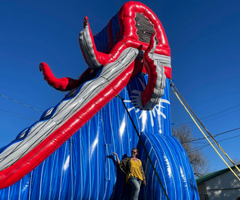 Space Needed:
10' W 40' L x 23' H
You might also be interested in:
Professional delivery to
Klamath Falls, OR
and surrounding areas. Please submit a quote or contact us to be sure we service your area.